Events
Upcoming and Ongoing Events
Concert by folks singer George Mann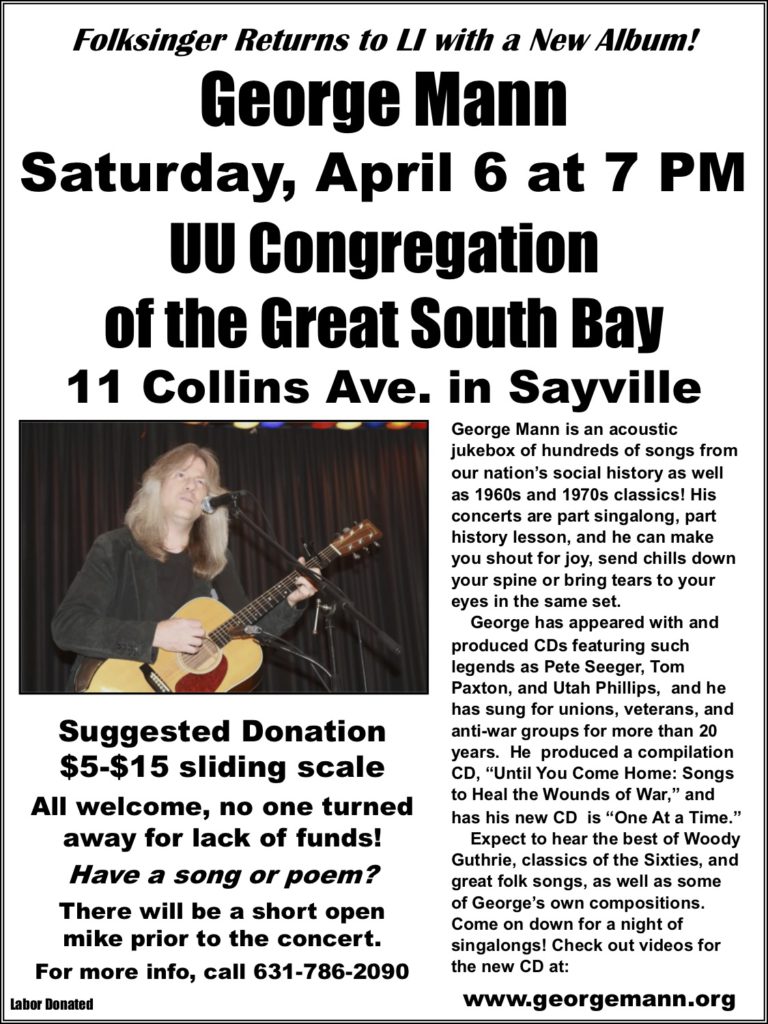 Please join Susan Datri in an an Introductory Session to
World Peace Diet Study Group
Attend one session
Wednsday, April 25 • 6pm
-OR-
Wednesday, May 2 • 6pm
The study is based on the book The World Peace Diet: Eating for Spiritual Health and Social Harmony by Will Tuttle Ph.D.An Amazon #1 bestseller, published in sixteen languages, some people call "the Bible of veganism".
Where: 11 Collins Ave, Sayville.  Unitarian Universalist Congregation of the Great South Bay (the former Sayville public library building) Parking: Free parking at church lot
Description: The World Peace Diet brings a message of the interrelatedness of all life. It teaches that going vegan is one of the most positive, uplifting and transformative actions any human being can make and it is a profound and effective questioning of the core violence of our culture, rooted in its' animal-based food choices. Switching to a plant based diet for ethical reasons is the first step in a spiritual adventure and a path to peace and freedom.
Info: At the seven week World Peace Diet Study Group, we will read/review the entire book together. There will be bonus materials and presenters. Projected dates for the Study Group are the seven consecutive Wednesdays, from Wednesday, June 6th through Wednesday, July 18th, 2018.
Who should attend: Open to all interested in veganism, e.g. those who are vegan for a short time and want to strengthen themselves, longer term vegans who want to become better vegan advocates and everyone who wishes to learn, be inspired and enlightened by this masterful book.. Will Tuttle is a professional pianist, composer, teacher, a Dharma Master in the Zen Tradition, a former Zen Buddhist monk trained in Korea and an educator and lecturer on the World Peace Diet and veganism, nationally and internationally.
Bring:  Your copy of The World Peace Diet if you have one. A limited number of books will be available for purchase.
Cost:  $0–$5 per session sliding scale, according to ability to pay. (Contribution is for use of church building.) Pay at event.
Program Host/Facilitator:  Susan Datri LCSW-R is a Certified World Peace Diet Facilitator, certified by Will Tuttle Ph.D. She is a Licensed Clinical Social Worker, with post-graduate training in psychoanalytic psychotherapy. She is a vegan of six years. Susan serves as a volunteer coach of the Long Island Vegan Living Program, is a member of Vegan Long Island, and a Board member of the South Country Peace Group.
Refreshments will be available.
Feel free to bring your own vegan snacks or vegan beverage.
Registration: Please Call 914-316-6301 or suedatri@optonline.net to RVSP.
Please advise If you would like to arrange a book for purchase (or Audio-book) through Susan.
Orders may need two weeks to be received.
View our Building Use Calendar